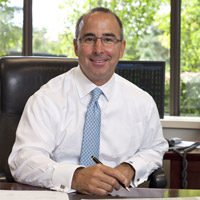 Ted N. Haddad
Senior Managing Director and Co-Founder
Ted Haddad has more than thirty years of experience involving portfolio management and research, business development, client service, compliance, and firm management. He is a member of our Investment Committee and also leads our business development and client service efforts. He has broad experience in providing investment management and advisory services across the major asset classes including global equities and fixed income, private equity, venture capital, commodities and hedge funds.
Ted previously was a founding member and the managing director of R. H. Bluestein & Company, an investment advisory firm he helped grow to more than $2 billion in assets under management for high net worth families and institutions. Ted also previously served as a vice president of Goldman, Sachs & Co. where he was responsible for providing research and trading related services to major financial institutions and high net worth clients.
Ted graduated with distinction from the Ross School of Business at the University of Michigan with a BBA in Finance and from the Kellogg School of Management at Northwestern University, also with distinction, with an MBA in Finance.
Ted has served in advisory roles to a number of non-profit and professional organizations, and currently is a member of the Beaumont Health Investment Committee. He has previously served on the Cranbrook Investment Committee of the Cranbrook Educational Community Board of Trustees, the Little Traverse Conservancy Investment Committee, and the Alumni Society Board of Governors and Corporate Advisory Board of the University of Michigan Ross School of Business. Ted has completed a number of industry registration and examination requirements and is also currently a member of the CFA Institute.